On June 20 and 21, 2018 JBA conducted its Annual Sacramento Visit together with the Japanese Chamber of Commerce Northern California (JCCNC). Much was accomplished on this trip, including meetings with the DMV and the Governor's Office of Business and Economic Development (GO-Biz) as well as a visit to the California State Senate.
Itinerary of the Visit
June 20 (Wednesday)
• Meeting with Assemblymember Al Muratsuchi
• Luncheon meeting with the California Chamber of Commerce (CalChamber)
• Meeting with the DMV
• Meeting and reception with GO-Biz
June 21 (Thursday)
• Visit to the California Senate
• Meeting with Senator Kevin De Leon
• Greeting Senator Scott D. Wiener
• Meeting with California Governor's Office of Emergency Services (Cal OES)
JBA together with JCCNC made their annual visit to the California state capital of Sacramento on June 20 and 21, 2018. The annual visits have been conducted for over twenty years ago with the aim of maintaining and strengthening relations with the state government and its affiliates. Based on survey responses received from JBA members, some of the topics discussed in this year's visit included changes to state policies following the transition to the Trump administration, business costs including labor wages, subsidies from state government, self-driving automobile and environmental regulations, infrastructure development, and countermeasures against terrorism and natural disasters.
In addition to receiving introductions by the California State Senate, the visiting delegation engaged in discussions with Assemblymember Al Muratsuchi, the sole Japanese American representative who hails from the South Bay, and attended an evening reception with GO-Biz. Through these exchanges, the group appealed the degree of contribution of Japanese companies make to the state.
Meeting with Assemblymember Al Muratsuchi, sole Japanese American California state legislator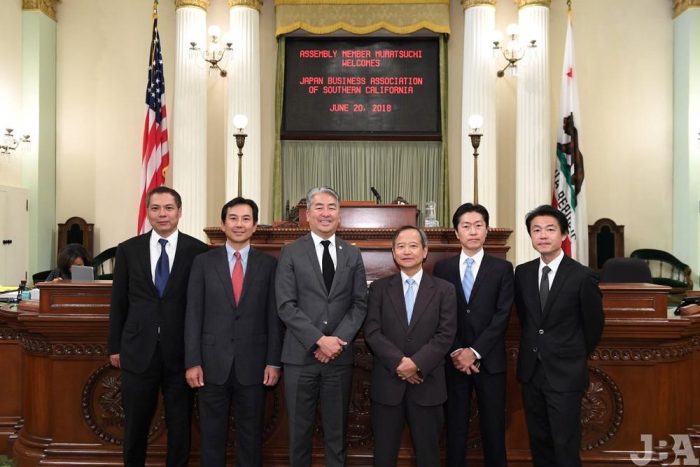 Assemblymember Al Muratsuchi is the sole Japanese American California state legislator and represents the state's 66th Assembly District, which contains the cities of Torrance, Palos Verdes, and Gardena where many Japanese live. He began the meeting by pointing out the findings from the LAEDC's FDI Report that the contributions Japanese companies make to the state of California in terms of investment, number of employment, and average wages surpass those of any other country that have business dealings in the state. He explained that Japanese companies favor investing overseas in California, which has the fifth highest GDP in the world.
On the other hand, he also talked about some of the issues Japanese companies face with the state, such as regulations and employment laws. "Environmental regulations are indeed strict, but California strives to be a state that takes leadership in the field of green energy and climate change mitigation," said Muratsuchi. Further, he added, "among the merits of expanding to California for businesses involved in high tech and R&D is that we have many high level engineers and programmers that are hard to find in other states." On the flip side, he also spoke on the statewide housing crisis. "In Silicon Valley and Silicon Beach, affordable housing is disappearing due to rising wages, and we perceive this as a huge problem the entire state must face moving forward," he said.
Speaker Anthony Rendon joined in the middle of the meeting, saying that "the California State Legislature would like to emphasize that the policies of the state of California differ greatly from that of the federal government in regards to trade and international relations." He also touched upon upcoming plans for representatives of the California State Assembly to visit Japan.
Lunch meeting with CalChamber
At a lunch meeting with CalChamber leaders, a lively discussion was held in regards California's economic and industrial trend as well as the state's environmental and employment regulations. "Although there are strict regulations in place in California, it offers many merits for Japanese companies in terms of securing human resources and geography. I wish for these businesses to succeed in the state by taking advice from the California Chamber of Commerce and other experts," offered CEO Allan Zaremberg.
Getting familiarized with REAL ID in DMV meeting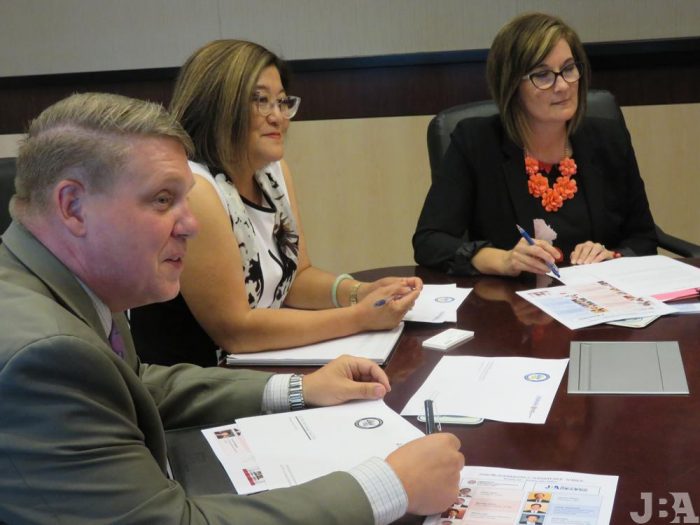 In a meeting with four DMV executives including Director Jean Shiomoto, the visiting delegates expressed gratitude for the individualized responses they received for the various inquiries made by JBA members regarding the issuance of driver's licenses. In response to requests for shortening the waiting period until a license is issued, it was explained that the reason for the delay in processing foreigners' driver's license applications is that they are sent to be screened by the Department of Homeland Security once received by the DMV.
In regards to the expiration date of the license, they explained that the application fee is based on five years with adjustments made according to the applicant's I-94 and visa deadline. They also revealed that in regards to self-driving cars, they are starting a full-fledged process such as holding public hearings for legislation. Furthermore, they talked about REAL ID, which will be required by the federal government from 2020. The DMV began accepting REAL ID applications from January of this year and urges everyone to apply early.
Meeting and reception with GO-Biz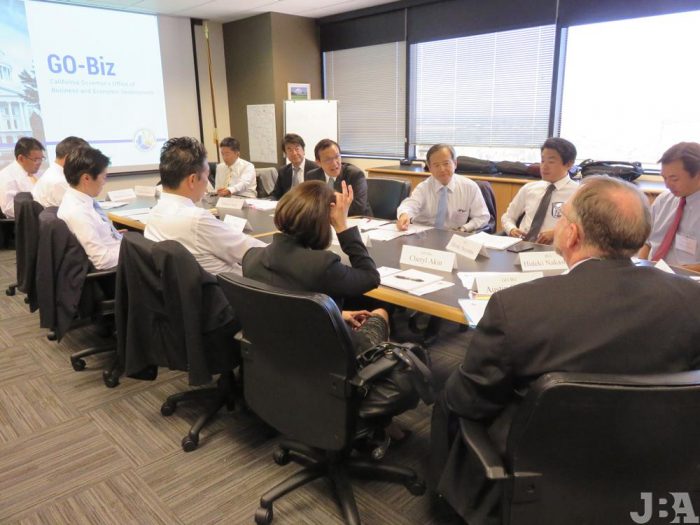 The Governor's Office of Business and Economics Development (Go-Biz) is the state governor's special agency for economic promotion and employment creation in California. This meeting confirmed the state government's views on topics that were sent in advance, based on JBA's questionnaire to member companies. The Governor's Office praised the contributions of Japanese companies to California's state economy and employment. Simultaneously, they encouraged Japanese companies to reach out to them with any questions or concerns regarding labor regulations and permission from state government as well as tax relief programs accompanying new employment, ensuring that they will provide free advice and information sessions as needed. (Especially for anything relating to permits and licenses, GO-Biz strongly urges making use of its one-stop services offered in conjunction with cities and counties.)
In addition, they made the following statement: "While some companies are leaving California due to the rise of minimum wage, high rent and cost of living, there are many others that GO-Biz has helped expand into California. There are various incentive programs besides the tax relief program that we want you to take advantage of. GO-Biz offers support in site selection, permit acquisition, and acting as an agent to various government bodies for both new and existing companies."
Receiving introductions at the California State Senate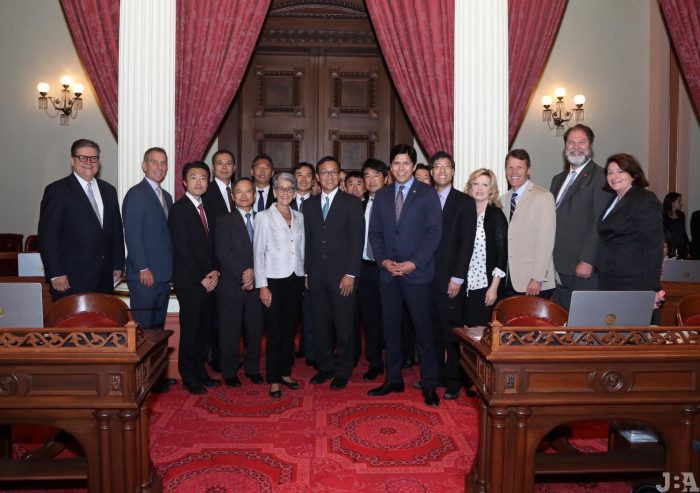 On June 21, JBA and JCCNC visited the California State Senate during a floor session. Each member of the delegation received the honor of being introduced individually by Senator Hannah-Beth Jackson to all in attendance. In addition, Senator Jackson commented on Japan being California's largest investing country and expressed gratitude towards Japanese companies for creating employment as well as the desire to continue strengthening these relations. Furthermore, the Japanese flag was raised next to the President's seat.
Meeting with Senator Kevin De Leon regarding public transit and environmental issues
Senator Kevin De Leon represents the 24th Senate District that includes Little Tokyo, and up until March of this year, served as President pro Tempore of the California State Senate. He is currently a candidate for the US Senate. He has visited Japan in the past, and his affinity for Japan could be felt from talking with him in this visit. He discussed about just how California could learn from Japan's public transit system, so could Japan learn about clean energy and environmental protection from California. He also mentioned how he would like to make a Japan visit by Senate representatives a reality.
Meeting with California Governor's Office of Emergency Services (Cal OES)
California Governor's Office of Emergency Services (Cal OES) is the government body responsible for coordinating emergency response among state and federal government agencies in times of disaster and terrorism. They are currently focusing especially on countermeasures against earthquakes, cyber-attacks, and terrorism. They explained that although the number of landlines are decreasing due to the popularity of cell phones, people should still hang on to their landlines since they are more reliable in times of disaster.
With the fruitful outcome of this visit in mind, JBA will continue to work towards getting member companies to enjoy the merits of these efforts, such as obtaining useful information.