The latest report on Foreign Direct Investment (FDI) in Southern California was presented at this year's Select LA International Investment Summit held on May 24. JBA sponsored the preparation of this report as in previous years. According to the report, Japan once again ranked first in generating the greatest number of jobs, businesses, and wages in Southern California.
2018 Select LA Summit held
JBA sponsors again
World Trade Center Los Angeles (WTCLA), a subsidiary of one of JBA's partner organizations, Los Angeles County Economic Development Corporation (LAEDC), hosted this year's Select LA International Investment Summit in Downtown Los Angeles over the course of two days on May 23 and 24. The event, which introduces trade trends in Southern California as well as direct investment opportunities and market trends in Los Angeles County, was joined by numerous local and foreign business leaders. JBA's own President Satoshi Okawa and members of the Business and Commerce Committee were also in attendance.
On the second day of Select LA on May 24, the "Foreign Direct Investment in Southern California 2018" (FDI) report was announced. The report summarizes the data on Southern California's foreign investment and activities such as trade. JBA, in recognizing the importance of objective official data to show the level of contribution Japanese companies bring to the region of Southern California, has been sponsoring the report's preparation since 2016.
Los Angeles – an international city with the world's third largest economy
The event opened with a keynote speech from Mayor of Los Angeles Eric Garcetti who spoke proudly of the city's economic scale and growth. According to him, LA holds the third largest metropolitan economy in the world behind Tokyo and New York, boasting the highest GDP per capita growth in the world for the past 15 years. Garcetti also touched on the 2028 Olympics, saying that this is the third Olympics the city has won the bid to host, making it the third city after London and Paris host the Summer Games three times.

In regard to business, Garcetti emphasized the significance of contributions foreign companies and trade make to economic revitalization. He explained that 61 percent of businesses in this city were opened by immigrants and argued that although there are talks in Washington about setting up barriers to trade, this will only lead to trade wars and self-isolation. He assured that LA will continue to open its doors and value growth, prosperity, and above all, friendship, indicating the city's welcoming stance towards foreign transactions and trade. He pointed out that many of the big projects coming along in Downtown LA are funded by foreign investments, a cause not for fear but rather excitement. He stated that the jobs created by foreign countries such as Japan will lead to building LA's future, and urged any nations with good ideas to test them out here.


Los Angeles Mayor Eric Garcetti emphasized the importance of economic cooperation with foreign companies
Japan ranks first in all aspects of direct foreign investments to Southern California third year in a row
Next, Dr. Michael Shires from Pepperdine University spoke about direct investments in the 2017 fiscal year as presented in the FDI Report. The report collected data about the activities of foreign businesses in 6 Southern California counties (Los Angeles, Orange County, San Bernardino County, Riverside, Ventura, and San Diego) in terms of employment numbers, number of companies, and wages. It also showed how country- and industry-specific data have changed over the years.

Looking at Southern California as a whole, the number of foreign companies have increased 4% to 10,378 and employment numbers have gone down 3% to 427,954. According to country-specific data, with 2,541 companies and 85,874 people employed, Japan placed first for the third year in a row in the number of companies, employment, and total wages generated. Even with a 2% decline from last year, Japan still constituted 20.1% of the total number of employment produced by foreign capital enterprise.


Dr. Michael Shires from Pepperdine University explained on the FDI Report
The UK came in second as it did last year, Canada third, and France fourth. In Asia, China bumped up one rank to eighth, and Korea bumped up two ranks to eleventh. This can be attributed to: 1. Brexit causing companies to move overseas, 2. the impact of the Trump Administration on US-Mexico relations, 3. China more than doubling its employment rate in 2 years.
Industry-wise, Manufacturing had 147,830 people, making up approximately 35% of total employment numbers. According to company specific figures, Retail Trade and Wholesale Trade ranked first and second, making up approximately 40% of the total number of companies. When looking at Japanese firms, those in Manufacturing hired the most number of employees at 24,000 people.
"Strengthen cooperation with Japanese companies"
City of Torrance representative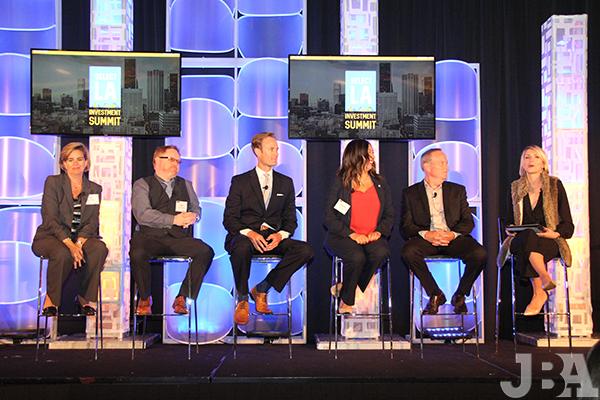 Panel discussion with facilitator Johanna Maska (right) and Los Angeles County 5th District Supervisor
The FDI Report presentation was followed by panel discussion by representatives from 5 LA county cities (El Segundo, Glendale, Long Beach, Santa Clarita, Torrance). The representatives introduced their respective city's greatest strengths and features then participated in a Q & A session. Among them was Fran Fulton, the Economic Development Manager for the City of Torrance who talked about Japanese companies. "Many of you already know Torrance as an area with the highest concentration of Japanese companies," began Fulton. She also touched on the move of Toyota's North American headquarters from Torrance to Texas. "Although Toyota has moved, Torrance still has Honda as a major automaker. We are developing a regional transportation system with them, as we aim to shift our focus from automobiles to public transportation in order to solve the traffic issue," Fulton stated, underscoring the city's ties with Japanese corporations.
"Depend on us"
WTCLA President Stephen Cheung
| | |
| --- | --- |
| WTCLA President Mr. Stephen Cheung emphasized the importance of Japan's direct investments, stating that "Japan has consistently been our top trade partner for the past 3 years, and I think that many people, not just at WTCLA but throughout Los Angeles and the world, are taking notice of how valuable our relationship with Japan is." He brought up the bioscience and hi tech industry as the sector to pay attention to moving forth. "With such a large Japanese and Japanese American community in Los Angeles, it offers an environment easily accessible to the Japanese. With 18.7 million consumers in Los Angeles, 22 million in Southern California, we are able to deliver products and services to a great number of consumers" said Cheung, highlighting the appeal of Southern California as an investment outlet. | Stephen Cheung, President of WTCLA, who presided over the Summit |
Next, he assessed the impact of Japanese corporations in regards to FDI Report findings, "At Over 85,000 employed and over $5 billion generated in wages, the impact of Japanese businesses is great. The "Los Angeles Business Journal" in which the results of this report will be published will be delivered to over 80,000 companies, thereby many businesses and people in Los Angeles will instantly be informed of the importance of direct investments from Japan."
Lastly, he delivered a message urging Japanese businesses to ask for WTCLA's help, stating that many government agencies and nonprofit organizations such as the WTCLA want to offer a hand to ensure the success of these companies.
"Make further efforts enhancements to the business environment"
JBA President Satoshi Okawa
"Los Angeles became the gateway city for Japan when migration to America began in the 1880's. Today, with the port of Los Angeles and Long Beach as hubs of maritime trade, along with LA International Airport used by over 80 million annually, it truly is a gateway for the flow of goods and people. Furthermore, it acts as the center of the fourth industrial revolution brought about by IoT and AI represented by Silicon Beach. It is a place where new business models are born and will continue to serve as an important area for Japanese companies moving forward," said Satoshi Okawa in his comment regarding the city's economic activity.
Just as the FDI Report revealed the contribution of Japanese businesses to Southern California's economy, Okawa pointed to the importance of relaying their future contributions in such a specific and objective manner. He also highlighted how vital it was for Japanese companies to give back to the local community, such as by supporting youth education, in order to ensure the continuity of economic prosperity.
Finally, he stated on JBA's future role, "We'd like to deepen our partnership with local political, economic, and cultural groups like the WTCLA and LAEDC, and continue making efforts to build trust and enhance the business environment to allow Japanese companies to continue flourishing here."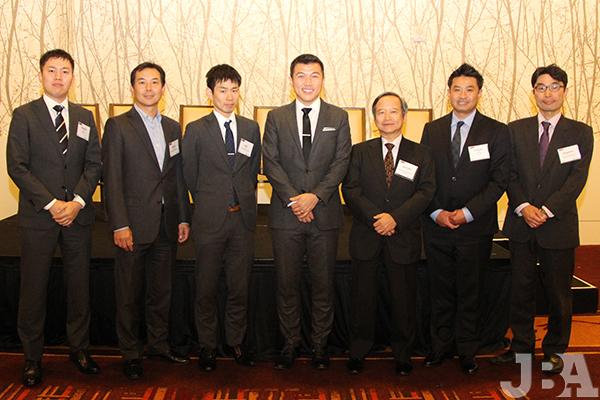 Satoshi Okawa (3rd from the right), Stephen Cheung (center), members of the Business and Commerce Committee, and others in attendance at Select LA 2018