On November 10th, a webinar on "Business Investments in the Los Angeles Economic Zone and their Appeal" was held, moderated by Stephen Cheung from the Los Angeles Economic Development Corporation (LAEDC), with Tami McCrossen-Orr from the Los Angeles Worlds Airport, and Marisela Caraballo DiRuggiero of the Port of Los Angeles as guests.
The Olympics as the perfect opportunity for the future
First, Cheung described how the Los Angeles economic zone is an attractive place to invest in. "Japan has been the number one foreign direct investment in the region for several years. The region has a population of 10.2 million, meaning that there are 10.2 million consumers here. It is also a hub for various industries, and in recent years many digital media companies have expanded into Silicon Beach. The fact that there are many educational institutions producing talented personnel, starting with the California Institute of Technology and the University of California Los Angeles, is also a factor supporting the development of companies. In the past, air pollution was terrible, but in recent years, the entire region has been promoting the Green New Deal environmental cleanup measure. And the biggest point of investment is that the Los Angeles Olympics will be held in 2028. Not only is public transportation expanding, but improvement of the environment is proceeding at a rapid pace."
Environmental initiatives at the airport and port
Next, McCrossen-Orr described the Los Angeles International Airport (LAX) sustainability program. "To pursue sustainability, LAX has been providing employees with a ride-sharing program for over 15 years and is actively implementing electric vehicles to be used on the premises. Currently, modernization projects are underway, including that of terminal buildings, and these new buildings will adopt environmentally friendly building standards of at least a LEED (one of the world's standard environmental assessment tools) Silver rating or higher. And by getting a light rail line near the terminal building, you should be able to see a completely transformed LAX by the time the Olympics are held. "
DiRuggiero of the Port of Los Angeles introduced the agency's project to regain clean air. "We aim to replace heavy trucks and equipment running on the harbor grounds with those that are zero-emission, and we are steadily producing results. Although cargo volume continues to increase year by year, from 2005 to 2017, we have been able to achieve a 15% reduction in greenhouse gas emissions and a 98% reduction in sulfur oxide emissions on our premises."
Finally, as "recommended places to visit in Los Angeles," Cheung named "Malibu", McCrossen-Orr picked "Griffith Park," and DiRuggiero said "Los Angeles Harbor at dusk" and concluded the webinar.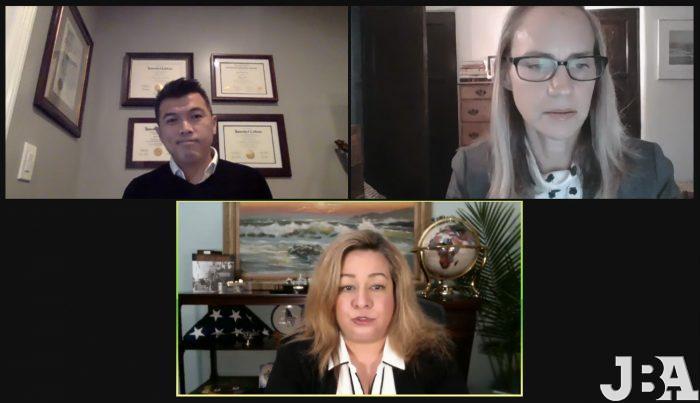 LAEDC COO Stephen Cheung (top left), Los Angeles World Airports Chief of Airport Planning Tami McCrossen-Orr (top right), Port of Los Angeles Director of Trade Development Marisela Caraballo DiRuggiero (bottom)