The California grizzly bear, the symbol of California, also wears a mask (in front of the governor's office)
JBA, together with the Japanese Chamber of Commerce Northern California (JCCNC), visits the state capital Sacramento every year. This year, they conducted their visit on September 7th and 8th while considering the effects of the Coronavirus.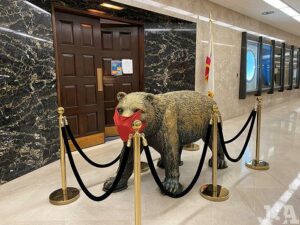 <Itinerary for this visit>
Sept 7 (Tues)
Meeting with Senator Robert Hertzberg
Meeting with Assemblymember Al Muratsuchi
Meeting with Lieutenant Governor Eleni Kounalakis
Meeting with the California Governor's Office of Business and Economic Development (GO-Biz)
Sept 8 (Wed)
Meeting with the California Department of Motor Vehicles DMV
Meeting with California Governor's Office of Emergency Services (Cal OES)
Virtual meeting with the California Chamber of Commerce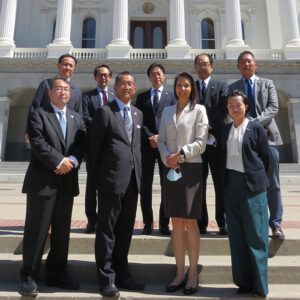 Commemorative photo of JBA and JCCNC delegation members in front of the California State Capitol
Discussions with DMV, GO-Biz, Cal OES, etc. this year as well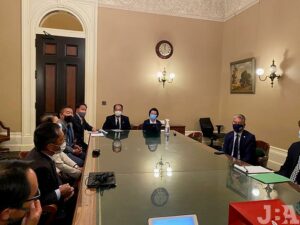 Meeting with Assemblymember Al Muratsuchi (right)
Every year, JBA visits the California state capital of Sacramento in collaboration with the Japan Chamber of Commerce and Industry (JCCNC). The visit was conducted over the course of 2 days on Sept 7th and 8th, with considerations made regarding the impact of the pandemic. This annual visit has been conducted for more than 20 years with the aim of maintaining and strengthening relationships with the state government and its affiliated organizations. This year too discussions were held around issues Japanese companies face when conducting business in the state, based on survey responses received from JBA members. In a meeting with Lieutenant Governor Eleni Kounalakis and Senator Al Muratsuchi, who represents the South Bay region and is the sole Japanese American California state legislator, we appealed the contribution of Japanese companies to the local economy and exchanged views on how to increase investment by Japanese companies. In addition, we met with several state government agencies such as the DMV, GO-Biz, and Cal OES to discuss issues facing Japanese companies and their employees.
Meeting with Lieutenant Governor Eleni Kounalakis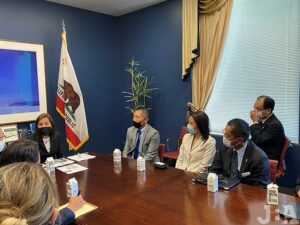 Lieutenant Governor Eleni Kounalakis (left) and JBA Chairman Kobayashi
A meeting with Lieutenant Governor Eleni Kounalakis was held for about an hour. It is very rare to be able to meet with a state dignitary of such a high rank. The Lieutenant Governor, along with Governor Newsom, sees the promotion of investment in California as an important issue and allocates a large portion of the budget to GOBiz, which plays a role in promoting the economy. A visit to Japan is scheduled for March 2022, with Dee Dee Myers (Director of GO-Biz), Liane Randolph (Chair, Air Resources Board), David Hochschild (Chair, Energy Commission), and Karen Ross (Secretary, Department of Food and Agriculture) set to accompany the Lieutenant Governor.
The Lieutenant Governor stated that she hopes to strengthen business collaboration with Japan especially in the four fields of (1) clean energy, (2) hydrogen technology, (3) public infrastructure (including hydrogen stations), and (4) agricultural products. She commented that she would like to come up with at least five investment projects before her visit to Japan next year and asked for cooperation in order to be able to sign contracts during the visit. JBA /JCCNC responded that they would like to align with JETRO, which is in charge of new investment support from Japan, to consider how to support the state government.
Meeting with GO-Biz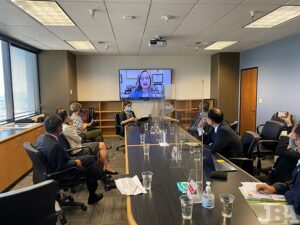 Meeting with a total of 12 people (10 from JBA and JCCNC, 2 from GO-Biz)
GO-Biz (Governor's Office of Business and Economic Development) is a governor created agency that promotes California's economic development and job growth. From GO-Biz, Deputy Director Emily Desai, Asia representative Henan Li, and Director Dee Dee Myers thanked the Japanese companies for their investment in the state and long-term partnership in a video message. It was mentioned that though we've seen many out-of-state relocations of companies in recent years, there are many advantages to doing business in California, including consistent corporate growth and leadership, high levels of education, high levels of trade infrastructure, and a culture of diversity.
It was mentioned that areas they'd like to focus on in business collaboration with Japan include clean energy such as ZEV, hydrogen technology (including fuel cells and hydrogen engines), and public infrastructure (including hydrogen stations). GO-Biz offered that they would like to actively provide support to Japanese companies and confirmed that they would consider jointly holding seminars and social events.
Meeting with the California DMV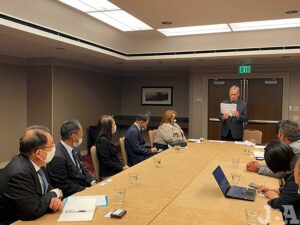 Learning about disaster countermeasures in talks with Cal OES
A meeting with California DMV leadership including Trina Washington, Deputy Director of Licensing Operations Division, and Bernard Soriano, Deputy Director of Registration Operations Division, were held virtually due to the pandemic. The meeting proceeded in a Q & A format, centering around questions received from JBA members in a questionnaire. The issue of long wait times for employees transferred from Japan to obtain a driver's license was brought up and it was argued whether California driver's licenses could be automatically issued to those who held a Japanese driver's license. Also raised for discussion was the relationship between obtaining a social security number and a driver's license as well as the length of time they both require, to which Deputy Secretary Washington confirmed that she would be happy to assist in any individual cases. In addition, Deputy Secretary Soriano explained about updates to the practical use of self-driving cars and affirmed that progress is steadily being made.
Meeting with Cal OES
In talks with Cal OES members including Abby Browning, Chief of the Office of Private Sector, and Richard J. McCarthy, Executive Director of the Seismic Safety Commission, a rundown was given on the current situation regarding wildfires and the State Hazard Mitigation Plan. JBA reassured that they will encourage Japanese companies to utilize their knowledge and technology and gain their cooperation moving forward.
Other events 
In addition, an online meeting was held with the executives of the California Chamber of Commerce to exchange views on California economic and industrial trends. Based on the results of this visit to Sacramento, we will continue to make efforts so that JBA member companies can enjoy more meaningful information gathering and benefits.