On November 13, the annual JBA Foundation Charity Golf Tournament, which had been on hold since July 2019 due to the pandemic, was held again for the first time in 2 years and 4 months at the Tustin Ranch Golf Club with 110 participants.
JBA's passionate efforts to support the education of Japanese children
On a day perfect for golfing, the members of the organizing committee gathered at 6:30 am and started preparations. Participants began to arrive around 7:30 am, and golf chair Mr. Maekawa explained the rules at the opening ceremony at 9:30 am. Afterwards, participants set out for the golf course in their carts and enjoyed playing while hydrating in the heat uncharacteristic for November.
Around 3 pm, participants who finished playing gathered under a tent set up outdoors for the awards ceremony. It was the first in-person event in a long time, and many business cards were exchanged. Emceeing the event was freelance announcer, Rika Tejima. Opening the ceremony, JBA President Hironori Kobayashi said with humor, "Thanks to each person's participation and donation, we were able to hold such a grand charity event. Our passion for Japanese culture and education brought back today's heat." Next, Deputy Consul General Koichi Nakagawa of the Consulate General of Japan in Los Angeles gave a speech and said, "As the Consulate , I feel very reassured by the support of the JBA members."
After Ms. Tejima introduced the sponsor companies, a video was shown introducing the Japan Enrichment Grant Program (JEG), which supports Japanese language and cultural education at local schools, as well as US Educators to Japan Program (USEJ), which has been sending local schoolteachers to Japan for many years. Although USEJ has been temporarily suspended since 2020, donations collected from the golf tournament are being utilized for these two programs.
Afterwards, a number of luxurious prizes donated by sponsor companies such as golf clubs, Japanese sake, beer sets, and hotel accommodation vouchers were raffled off by the Nisei Week Queen, Miss Tomodachi, and Princess of the Nisei Week Festival. After the winners received their prizes, it was time for the long-awaited results from the golf tournament to be announced. In 3rd place was Hatsumi Bullard (Pentel of America, Ltd.), 2nd place, Jun Ida (Sanyo Foods Corporation of America), and 1st place, Hiroyuki Yamamoto (Jupitor Corporation U.S.A.).
Next followed another raffle, this time for the 2 grand prizes. The Los Angeles-Tokyo round-trip tickets from ANA went to Kaz Takemura (Total Computing Solutions of America, Inc.), and 50,000 miles from Japan Airlines went to Toru Seki (Sanyo Foods Corporation of America). At the end of the program, Takato Hayashi, the Education and Cultural Committe chair, announced the total amount of donations collected this year. "It was $86,815. The last time from 2 years ago was over $100,000, but I am full of gratitude to everyone for their warm support during these difficult times." The half-day event successfully concluded, and the participants reluctantly left the venue.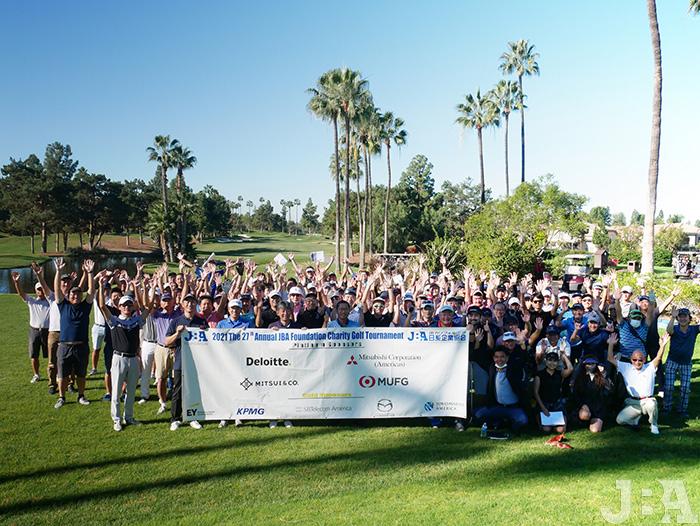 Commemorative photoshoot of participants before the start of the tournament!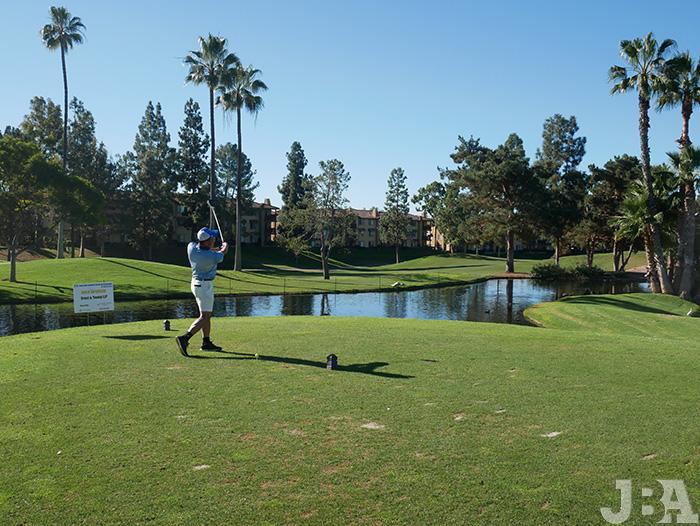 JBA president Mr.Kobayashi's "Nice shot!"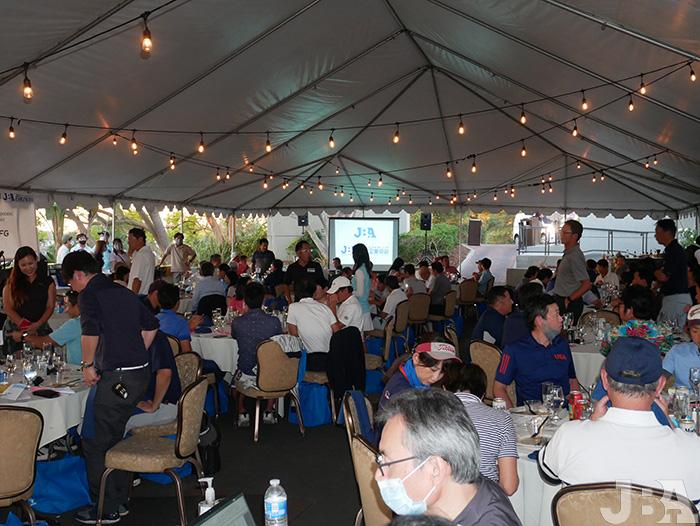 The award ceremony was held at a well-ventilated outdoor venue.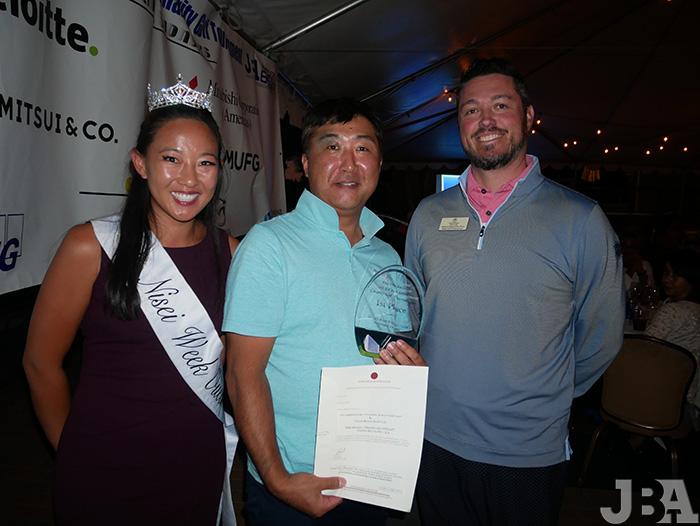 Hiroyuki Yamamoto, the day's champion, at the center, along with Nisei Week Queen Jaime Hasama (left) and Brian Haggett of the Tustin Ranch Golf Club.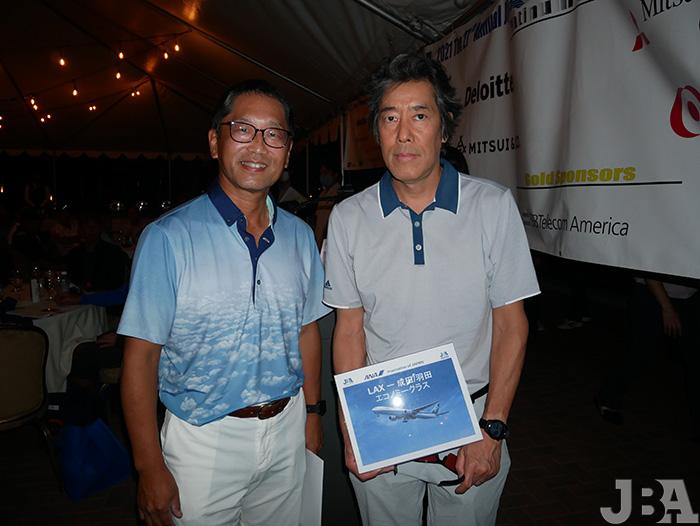 Kaz Takemura (right), winner of the ANA LA-Tokyo round-trip ticket, and ANA Los Angeles branch manager Mr. Kobayashi.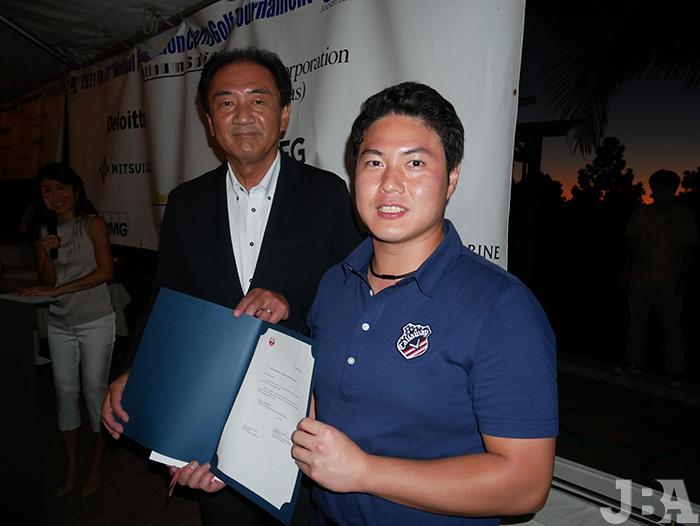 Japan Airlines 50,000 miles winner Toru Seki (right) and JAL Los Angeles branch manager Mr. Nakamura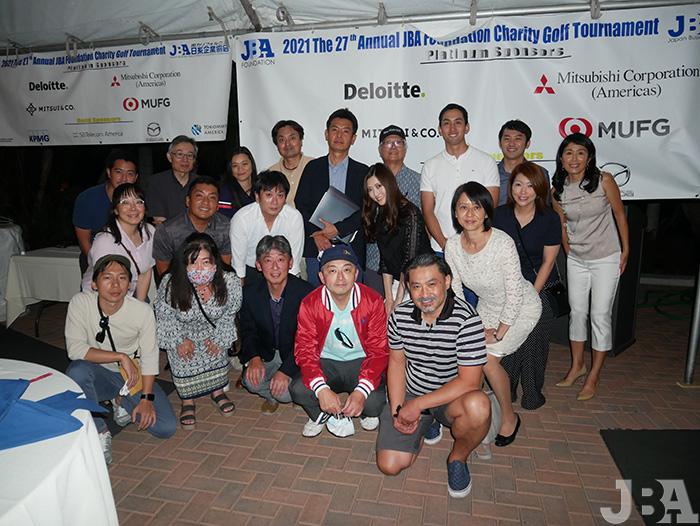 Members of the organizing committee, composed mainly of members of the Educational and Cultural Committee, having finished a long day.