The JBA 58th Anniversary Reception was held on February 27th at the Salon of JAPAN HOUSE Los Angeles in Hollywood. In addition to leading figures such as the Consul General of Japan, the President of JBA, and the Mayor of Torrance, it was attended by many JBA corporate members. It turned out to be a very lively event with 119 in total attendance.
Strong US-Japan relations felt
Greetings from the guests of honor
This annual event commemorating the establishment of JBA has for past few years been held at the Official Residence of the Consul General of Japan in Los Angeles. This year, however, it was held at JAPAN HOUSE Los Angeles for a change. The reception began at 6:30pm with opening remarks from the evening's host Hideki Nakashiro, General Manager of MUFG Union Bank Los Angeles Branch who serves as JBA Vice President and Chair of Business and Commerce Committee.
Next to appear on stage was Satoshi Okawa, JBA President. "JBA is committed to deepening mutual understanding between Southern California and the Japanese American community, and to facilitate the interaction of businesses and people across many fields in the region. It is impossible for us to prosper without the support and cooperation of the local community. Thus, it is vital that we further strengthen ties," he said. Moreover, "according to the World Trade Center Los Angeles (WTCLA) report, Japanese companies have created 85,000 direct employment, and this can be called a win-win for us and the local community. We have a saying at Sumitomo Bank that the company's philosophy is based on – 'Benefit for self and others, private and public interests are one and the same.' It is futile to profit alone. Instead, it is important to share the wealth. If both parties have this in mind then we can truly establish a win-win situation," he noted, closing out his statement.
Okawa was followed by Consul General Akira Chiba of the Consulate General of Japan in Los Angeles. "58 years ago, JBA was started with 48 companies. Today it has grown to a large organization of about 500 participating companies. Along the way, Japanese companies have played big roles as employers and good citizens in Southern California. 60 years ago, the Japanese airline industry operated the first passenger aircraft from LAX to Asia. Additionally, Japanese corporations have accelerated the local economy by working with American companies in several fields such as joint research in biotech and pharmaceuticals," he spoke, underlining the many years of activity by Japanese companies. ;
Next up was Sachi Hamai, Chief Executive Officer of Los Angeles County. "JBA's 58 years of success is a huge triumph for the county of Los Angeles as well. Japanese companies play a truly important role in the area, and JBA has been involved in various community activities such as supporting school education, participating in beach clean ups, sponsoring Nisei Week, and volunteering at the LA Marathon. Thank you. I know that JBA visits Sacramento every year with the aim of strengthening ties with the State of California. I hope that moving forward, we'll be able to build a strong partnership as well and discuss various issues together," she said.
Hamai was then succeeded by Patrick Furey, Mayor of Torrance. He brought up the fact that there are over 250 Japanese corporations in Torrance as well as many Japanese and other Asians living in the area, and talked about how the place sincerely enjoyed the diversity. He also mentioned that "last October, I visited Japan to celebrate the 45th anniversary of the sister cityhood of Torrance and Kashiwa, Chiba. The two cities have been deepening relations by exchanging our students and I think this is a truly wonderful program," emphasizing the strength of the city's ties with Japan.
Introduction of JAPAN HOUSE Los Angeles, followed by sake barrel opening and mingling
Thereafter, Jerry Neuman, Chair of the Board of the Los Angeles Area Chamber of Commerce, addressed the audience. "While the Los Angeles Area Chamber of Commerce has welcomed our 131st year this year, our relationship with JBA remains extremely special," he spoke. "Further fortifying ties with JBA is an important duty for me as Board Chair, and I'd like to build a better Los Angeles, Southern California, and America together," he said, calling for the further strengthening of relations between both organizations.
Behind Neuman was Rana Ghadban, President & CEO of the Hollywood Chamber of Commerce. "The Hollywood Chamber of Commerce has for nearly 100 years, worked with various local organizations in order to make Hollywood a better place. Although I have only begun this position 2 months ago, I hope to maintain a close relationship and work together with business community groups like the JBA," she stated.
Subsequently, Yuko Kaifu, President of JAPAN HOUSE Los Angeles, presented the workings of the institution. She explained that the facility was created as a project of the Japanese Ministry of Foreign Affairs with the aim to deepen America's understanding of Japan through the introduction of Japanese art, design, and technology. Additionally, an explanation of the evening's meal was offered by Chef Mori Onodera of INN ANN, the Japanese restaurant on site that prepared the dinner.
At the end of President Kaifu's and Chef Onodera's statements, all the speakers from the evening including the Consul General and JBA President stood on stage wearing happis and proceeded to hammer open a barrel of sake. Once the sake had been distributed, Thomas Iino, Founding Chair of the US-Japan Council took the microphone and gave a toast, "To this unique and special time, and to many more successful years for JBA. Kanpai!"
Afterwards, it was time for mingling. Guests became better acquainted with one another as they smacked their lips over nigiri sushi and wagyu steak.
Top row from the left: JBA President Satoshi Okawa, Consul General Akira Chiba, LA County's Chief Executive Officer Sachi Hamai
Bottom from from the left: Mayor Patrick Furey of Torrance, Board Chair of LA Chamber of Commerce Jerry Neuman, President & CEO of the Hollywood Chamber of Commerce Rana Ghadban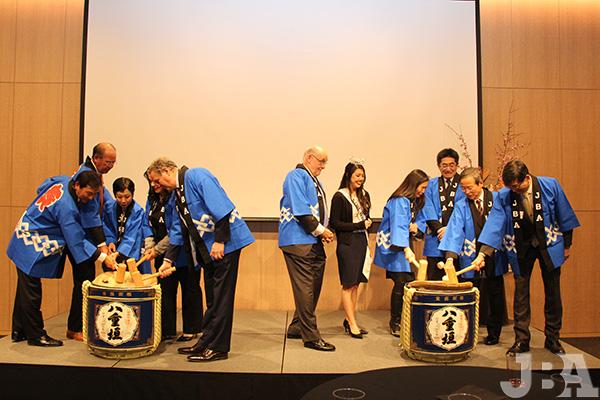 Annual sake barrel opening was done in 2 groups and with much enthusiasm
| | |
| --- | --- |
| President Yuko Kaifu of JAPAN HOUSE Los Angeles who spoke on the appeal of JAPAN HOUSE | Hideki Nakashiro, Vice President and Chair of the Business and Commerce Committee, who livened up the event as host with his wit and humor |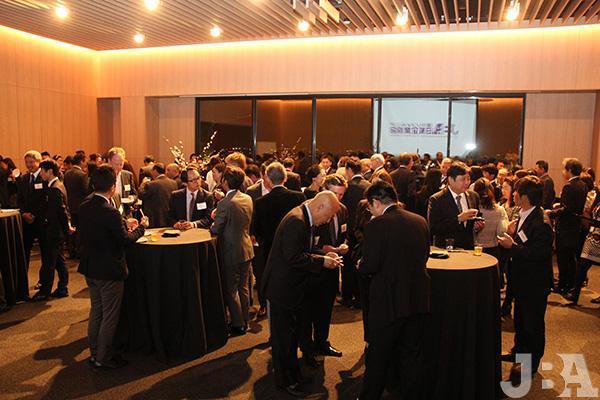 Guests who gathered from both Japanese and American communities wholeheartedly enjoyed exchanging pleasant conversation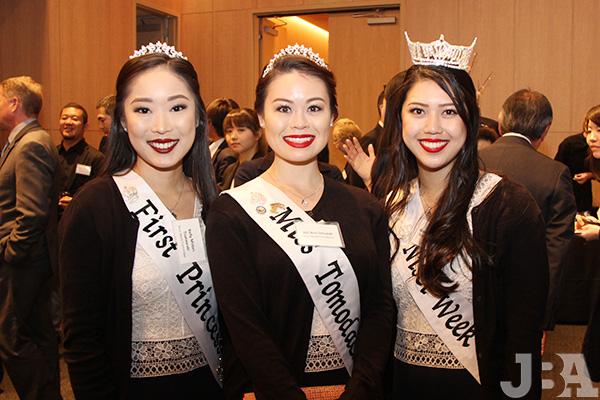 The 2018 Nisei Week Queen & Court adds a touch of glamour to the event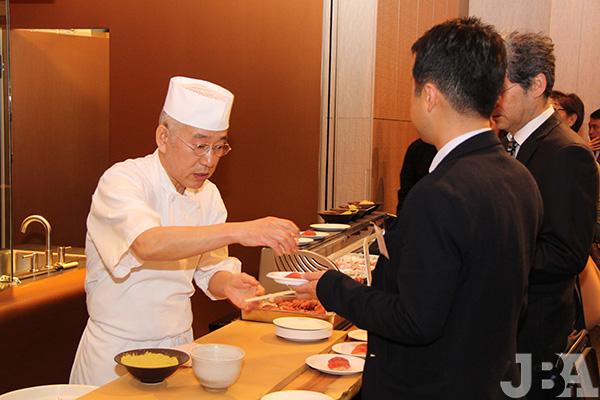 The splendid authentic Japanese dinner from Inn Ann was met with enthusiasm