On September 17th, a roundtable discussion was held by LA Mayor Eric Garcetti and Japanese companies. From JBA, President Mitsumori attended and reported to the mayor about the activities of member companies.
LA Mayor in his first roundtable with foreign companies since the pandemic
On September 17th, an hour-long virtual roundtable was held by LA Mayor Garcetti, the Japanese Consulate General of Los Angeles, the JETRO Los Angeles office, and the Japanese business community. From JBA, President Mitsumori attended and conversed with the mayor and others. This became the first business roundtable with foreign companies in which the mayor participated during the pandemic. In his opening remarks, the mayor expressed his gratitude towards Japanese companies for their donations of personal protective equipment (PPE), and thanked Japan for its longtime contribution to various fields as the largest foreign investor nation in the region. Consul General Muto thanked the mayor for his leadership in responding to COVID-19, and showed appreciation for the various corporate activities of Japanese companies during the pandemic.
After that, with JETRO Deputy Director Saeki as the moderator, participating Japanese companies explained their corporate activities in the Los Angeles region. Representing about 500 Japanese companies in California, JBA President Mitsumori stated, "JBA was established in 1960. Over many years, member companies have contributed to the economy of Southern California by paying taxes and creating employment. Even during the pandemic, they have created 860,000 jobs, with 400,000 being in LA county," impressing upon the significance of Japanese companies.
"We want to provide the support that Japanese companies need." (LA Mayor)
The mayor, upon receiving this explanation, said, "I am delighted to maintain and expand Japanese companies' business in the US. We will support Japanese companies as much as possible regarding issues such as real estate, regulations, investment, and the provision of business negotiation opportunities for Japanese and US companies." He stated that he would continue to focus on providing employment opportunities to young people and on the environmental field such as utilizing hydrogen. While referring to specific projects of individual companies, he summarized that he would like to cooperate with Japan, which as a whole, shares the common trait of innovation.
WTCLA President Stephen Chan (concurrently serving as LAEDC COO) also mentioned that he would continue to disseminate Japan's contributions through the FDI Report. Finally, Deputy Mayor Hachigian stated, "While it's been said that Japan is an important partner for Los Angeles, this time that understanding has further deepened. If there's anything we can do to support, please feel free to reach out."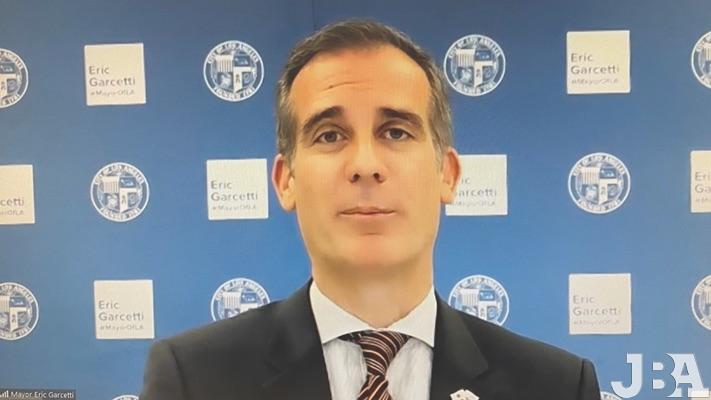 LA Mayor LA Garcetti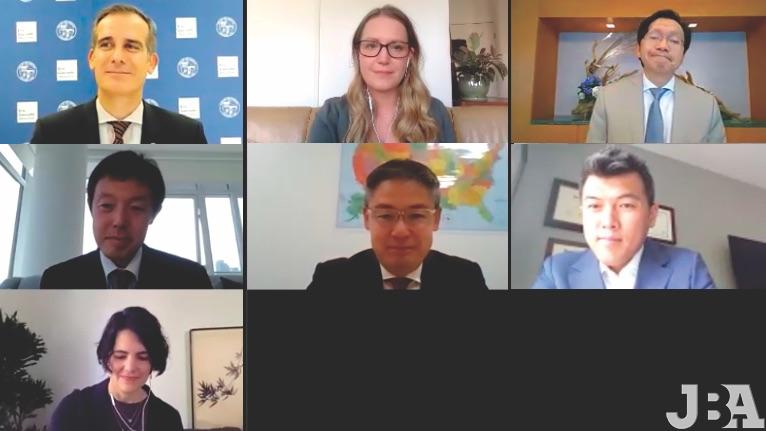 Some of the participants in the virtual roundtable